but seek first His kingdom and His righteousness, and all these things will be added to you. matthew 6:33
still counting gifts to 1000...
799
- 809:
799. gas in the van, and that God isn't intimidated by the rising gas prices like i am.
800. enough grace for today -
do not worry about tomorrow...
801. the smell of coffee beans.
802. sun rays bursting through the fluffy clouds this morning.
803. crisp air.
804. pretty nail polish.
805. listening to misty edwards in t
he prayer room
(via my computer) this morning.
806. looking back at old baby pictures and remembering how cute they all were and how chubby!
807.
roasted fennel
for the 1st time.
808. winter squash in the pantry.
809. the mundane activities that fill my day, and often wear me out, do not go unnoticed nor unvalued by God.
i am linked up at
a holy experience
.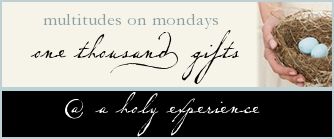 if you haven't liked this facebook page, you can in the upper right of this post. you can also follow this blog or subscribe in a reader. i would love to keep in better touch with you!
please leave a link to your list of gifts in the comments and i will come visit your blog as well! i love to give thanks together.
charis