what a week and a half it has been! even with all the tiredness and blurred together days, i wouldn't trade it for the world!
still counting gifts to 1000...
602 - 628:
602. nice weather to go on a walk.
603. flowers starting to bloom.
604. a clean bedroom and organized closet.
605. my rocking chair is finally fixed.
606. two beautiful sour dough loaves fresh from the oven.
607. the boys playing football in our front yard.
608. the gentle coo of the mourning dove.
609. God's patience with me.
610. red tulips.
611. my new
baby boy
.
612. the best of my 5 labors.
613. water birth.
614. meals made with love and brought to us by friends and family.
615. help cleaning the house - humbling and yet such a practical gift for the tired mama.
616. fresh flowers in vases in the living room.
617. blue skies and warmer weather.
618. time to celebrate hosea's birth with people i love.
619. i called on Your name, o Lord, out of the lowest pit. You have heard my voice, "do not hide Your ear from my
prayer for
relief, from my cry for help." You drew near when i called on You; You said, "do not fear!" lamentations 3:55-57
620. in the midst of the hard stuff, you draw near to me and trade my fear for peace.
621. a good doctor's report for a loved one - an answer to prayer!
622. an old praise song i haven't heard for 20 years coming to mind in a hard moment - the Holy Spirit turning me once again towards worshiping Jesus.
623. a helpful husband in the midst of a huge transition.
624. an amazing nurse for labor who was not only a believer, but goes to my church!
625. the kids are making the transition with the new baby well and have made room in their hearts to love our new little one - even simeon!
626. baby feet.
627. baby lips.
628. baby sighs.
i am linked up at
a holy experience
.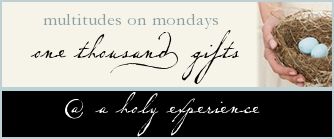 if you have a blog, let me know if you have a list of your grace gifts so i can visit! if you don't, write something you are thankful for in the comment section.
i love hearing from you!
if you haven't liked this facebook page, you can in the upper right of this post. i would love to keep in better touch with you!