do not call conspiracy
everything that these people call
conspiracy;
do not fear what they fear,
and do not dread it.
the Lord Almighty is the One you are to regard as holy,
He is the One you are to fear,
He is the One you are to dread,
and He will be a sanctuary...
isaiah 8:12-14
here are a short couple thoughts for a monday morning. mondays are the mornings when i work on our family finances. i never planned on being the finance person in our family... it just worked out that way. if i had the choice, i would be completely ignorant of our finances and not have to continually be faced with how much we need God to move in our lives in this very practical way. but, God had a different plan than mine. as i have said in the past, i am on a journey to learn how to
live by faith and not fear in regard to money.
finances are a really small thing in the grand scheme of what we have opportunity to dread and fear. there is so much that clamors for our mental and heart energy. so many things are saying, "look over here! fear me! panic! grasp for control of your life! i am worth your attention!" but no matter what we are facing, even if it is
death itself,
we do not have to fear what is before us.
that is the way of those who don't know Him.
we are to fear the Lord Almighty alone. He is the One we are to fear. He is the One we are to dread. why? because
our entire life now and for all eternity is in His hands,
and it is His mercy we need to find life. these trials now are a drop in the bucket compared to an eternity with or without Him. no man holds my ultimate destiny - not even if they could make my life here really miserable or even kill me. only God is in ultimate control, and no man, disease, calamity, or type of lack can snatch us from His hand.
He
will
be a place of safety to those who trust in Him.
i know that i need this place of safety. i am sure that you are needing it too. let us once again let go of fear of anything else but Him and find that rest and safe place in the only One who is deserving of our fear and attention.
still counting gifts to 1000...
8

92 - 914

:
892. beautiful weather.
893. being the featured blog
here
.
894. You can quiet my noisy thoughts.
895. my husband who really is a very involved dad. i couldn't do this 5 kid thing without him.
896. lots of opportunities to swim this summer with the kids.
897. having the kids around more with school out.
898. homemade strawberry chocolate chip ice cream.
899. selling lots of stuff as i clean out the house and simplify.
900. fresh summer produce.
901. so many friends having babies right now!
902. God doesn't measure my success the way i try to measure my success.
903. learning this
imperfect parenting thing
and meeting the mercy of God along the way.
904. picking blackberries and making jam.
905. creative ideas in the kitchen.
906. running a couple miles at a time... alone.
907. finding a letter from my dad to me when i was born in his office - reading it in his own handwriting and hearing his voice speak to me in my head. a true gift from heaven.
908. heaven is for
real
.
909. lots of time in the
prayer room
with our kids on these summer mornings.
910. tomatoes ripening in my very small garden this year.
911. living by truly breath-taking beautiful lakes.
912. new contacts after wearing my glasses that don't fit right for a week straight. so thankful to be able to see even out of the corner of my eye.
913. several days this june that it is cool enough to use my oven! fresh baked cookies...
914. turning off the a/c in june! unheard of... yay for open windows and lower temperatures.
i am linked up at
a holy experience
.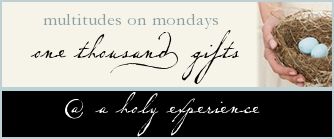 if you haven't liked this facebook page, you can in the upper right of this post. you can also follow this blog or subscribe in a reader. i would love to keep in better touch with you!
please leave a link to your list of gifts in the comments and i will come visit your blog as well! i love to give thanks together.
charis