dear me at 15,
oh my. how i look at you and have so much compassion for what you are going through. you are a happy teenage girl who loves the Lord, but you have had
a really hard year
. you are hurting still, even though you are afraid to show it. you wonder at times if someone as young as you should have had to experience so much pain, so much loss, so much disappointment. i know it doesn't feel fair, but God never promises life will be fair. the good news is He really does work all things, even the really painful ones, together for good for those who love Him and are called according to His purposes.
He really does.
i know you are insecure right now about breaking up with that 1st boyfriend... the one you thought you might marry someday. i know you feel kinda dumb using the "God told me so" card and like no one really believes you. honey,
you really did hear from God.
it is going to get much more painful over the next couple years with false rumors about you, betrayal, and your heart getting ripped into so many pieces. but what you cannot see now is he was never the one God had for you to marry. you will wait quite a while and choose to not date (a great decision, by the way), saying even that you never are going to get married because of the pain this boy caused you, but when you are 21 you will meet just the right one. you will be so glad you chose to not date.
you did hear God
about taking that "break" that broke your heart, and
you really will hear God again
when He tells you to change your college major plans to graduate a year early. because you are so willing and tender to obey Him, even when you doubt you hear Him well, you will be in brazil and meet your perfect match when you "should have" been in your senior year of college still. it was His still small voice telling you now and will tell you then.
trust Him
and
keep taking the risks to obey
. it will make so much more sense looking back and the pain of right now will seem so worth it.
i know your heart is
so afraid of death
. losing a friend you cared about and
then both your teenage cousins
in a year's time hit hard. in some ways i am sad that you had to grow up so quickly and not feel as "invincible" as many teens do, but let me tell you
it will keep you on the straight and narrow.
you will live more sober than your friends and it keeps you out of a lot of trouble. you want to end well and you wonder how old you will be when your end will come... you know that no one, no one, is guaranteed tomorrow and you will have scotty and daron in the back of your mind for the rest of your life as you make decisions. they really never left you in a way.
i know it hurts so badly right now and it scares you that
you think you are forgetting
their voices... their faces. i know you think you will never get the images of daron hooked up to life support out of your mind or how unreal they looked in the open caskets at the viewing. but God is going to give you
the most special gift
.
in a couple years you will be laying on the floor of your church during a sunday night renewal prayer time and you will get a glimpse into heaven. daron will approach you and he will look whole. he will look
so happy and healthy
, and the images of him dead will be replaced with images of him alive. the empty space their absence left will never really be filled, but as you grow up you will start to believe more in the reality of the resurrection of our bodies and you will be filled with hope that
you really will be with them again
.
i don't know if i should tell you that you will have many many more people you know and care about die in the next few years. you will struggle and wrestle with this - i want to urge you to not keep it in or simply write in your journal...
talk to someone
about it.
talk to your mom and dad.
they won't think you are crazy or having morbid thoughts. i know it is so hard to experience loss and know the finite part of life right now, but it will make you more compassionate to those going through it later on. you see, God really does work all things for good.
He uses your broken places to minister to others who are hurting.
i know there is tension in your relationship with your dad. let me tell you that God is so faithful and He brings so much healing and
it gets so so good
.
listen more
- he has really good advice and perspective.
react less
and realize that your emotions are not good leaders.
ask him to go to coffee and lunch with you
- that one on one time with him will be one of your favorite things as you get older. right before you meet your husband you will decide that one of the most important qualities you want in a spouse is someone who can really talk to your dad. in fact, your husband will remind you so much of your dad that it will make you smile all the time.
enjoy
the times being on the worship team with your mom - so much of this will shape your future in ministry.
humble yourself and be correctable
- she isn't being old fashioned when she sends you home to change your clothes because your skirt is too short. i know you roll your eyes often now, but later you will realize that she was right and you will sound old fashioned to other young girls... and you will be proud to be just like her.
your parents are your biggest cheerleaders. i know you want to please them so much, but realize that you don't have to earn their love -
you never had to
. listen more. be defensive less. they really are for you and not against you - later you will advise other people of the great ways your parents raised you as a teenager with trust and responsibility. watch carefully how they do it because in not too terribly long you will be raising your own kids and calling them asking for advice.
i guess the most important thing i want you to know even though you have strived so hard to earn God's love and the love of those around you,
stop striving!
you can't be a good enough girl for God to love you more. He already offers it so freely and He knows your weakness and isn't intimidated by your strong emotions. He knows you will mess up many many times and be tempted to beat yourself up. all He is waiting for is for you to come to Him and surrender.
keep purposing to walk faithful, but come to Him when you mess up.
He will forgive you as many times as it takes. you are going to learn that humbling yourself asking for forgiveness from those around is much better than trying to be perfect - the healing God will bring to your heart and your relationships is so good.
enjoy your brother and sister.
your mom was right
- they will be your best friends as you keep growing up. laugh, have fun, be real - you guys will make awesome memories.
one more thing
- next summer you are going to go spend a week and a half in santa cruz with your cousins at your grandparents' house. you will get homesick and want to go home early. your grandpa is going up to northern california and will offer to drive you back home to redding. he will offer to let you drive his bmw (it will make you feel really cool and nervous at the same time) and you will have such a special talking time on that 5 hour drive.
soak it in.
remember the stories and ask all the good questions.
really listen
and commit it to memory.
that one on one time with him will be one of you most special memories after he dies
. you will think back on it often and be so glad that you were homesick and got to have those good talks with him all by yourself. you will wish you remembered better and asked even more questions.
God loves you and He will never ever leave you. hang in there -
life isn't easy but it is really really good.
love,
your 33 year old self
ever wondered what you would say to yourself when you were a teen? this writing exercise was healing to my heart and i saw how involved the Holy Spirit has been in my life every step of the way. He is so good! join in at
chatting at the sky
!
still counting gifts to 1000...
759
- 768:
759. tears as writing to my younger self brought so much perspective and healing. God is so good!
760. friends with whom i can share my heart and struggles.
761. the sweet and painful conviction of the Holy Spirit on my heart.
762. priceless opportunities to get one on one time with my different kids - connecting to their hearts.
763. morning prayer time with the boys on the drive to school.
764. cleaning out the cluttered cupboards - re-establishing some order.
765. reused peanut butter jars as water glasses.
766. my sweet david making new friends at pre-k.
767. heart connect with my oldest over ways we both are struggling.
768. God works all thing together for good for those who love Him! all things!
i am linked up at
a holy experience
. and
chatting at the sky.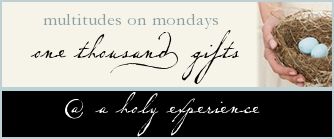 if you haven't liked this facebook page, you can in the upper right of this post. i would love to keep in better touch with you!
charis