it is a simple post today friends.
i have had the old chorus from psalm 51 going over and over again in my head over the past couple days. i am longing for a fresh experience of His mercy on my heart that needs mercy so badly. i am longing for a taste of His love that never fails. i want to feel and know His great compassion towards me. i desire to live from His forgiveness - extending forgiveness towards those around me. then to have my heart come alive! ...not in a boastful power, but in a broken meekness that leans on my Beloved One.
this is my prayer for you as well.
have mercy on me, o God,
according to Your unfailing love;
according to Your great compassion
blot out my transgressions...
create in me a pure heart, o God,
and renew a steadfast spirit within me...
the sacrifices of God are a broken spirit;
a broken and contrite heart,
o God, You will not despise.
psalm 51
still counting gifts to 1000...
8

48

- 866:
848. my 5 wonderful boys.
849. God is not disappointed in me because my weakness doesn't surprise Him
850. my husband is also my friend.
851. i serve a God who is meek and gentle in His dealings with me.
852. the resurrection. so especially thankful for the resurrection.
853. my dad's faith was tested and found to be true.
854. the hope to see my daddy again.
855. the excellencies of Christ teaching by allen hood - stirring a passion in my heart for this amazing man - Jesus my Messiah.
856. time away from my family on monday mornings to spend time with Him.
857. another new beautiful nephew - 3 new nephews added in the past couple months.
858. a beautiful bike riding date with bill - felt like a kid again.
859. the Holy Spirit breathing in me a hunger to know the Word.
860. forgiveness. mercy. the meekness of God toward me. the cleansing of the Holy Spirit like water on my heart.
861. my almost 1 year old baby.
862. fun soccer filled days.
863. hearing my boys confess their sin and experiencing the tenderness of their hearts.
864. friends praying for me in my hard time.
865. all the new life of spring.
866. having real community in my life who stop me and ask how i am doing -who care.
i am linked up at
a holy experience
.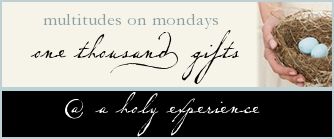 if you haven't liked this facebook page, you can in the upper right of this post. you can also follow this blog or subscribe in a reader. i would love to keep in better touch with you!
please leave a link to your list of gifts in the comments and i will come visit your blog as well! i love to give thanks together.
charis