such a simple post today - simply counting my blessings from God. when things get tough or even just overly busy, i need to take time to tell Him all the things i am thankful for so that my heart realigns. i want to overflow in thankfulness and gratitude to Him. my life is really so so blessed if i can have eyes to see it.
still counting gifts to 1000...
867 - 8

91

:
867. the Cross is enough for all of my sin.
868. i do not have the pressure of being "good enough" - He died for me at my worst state.
869. having energy today after a couple days of feeling out of it - i take the simple gift of energy for granted so often.
870. beautiful sunny day.
871. a building for our house of prayer! it has been a long time coming... so glad!
872. God is completely trustworthy.
873. He is my Provider, not man.
874. the story of the book of hosea.
875. we have memorized the 1st 71 verses of psalms as a family - only by the grace of God.
876. monday mornings at starbucks, with coffee, my bible, excellencies of Christ teachings, and my knitting needles.
877. colorful self-striping yarns.
878. the hope of something that has yet to be.
879.being able to run 2 miles at a time without knee pain.
880. reading the book of romans.
881. beautiful days that i don't need to run the ac, but can open the windows.
882. learning the way of simplicity.
883. my back pain is getting less and my sleep is getting better as i have been exercising.
884. small tomatoes starting to grow.
885. the piles are shrinking!
886. selling things here and there - a couple dollars at a time adding up and clearing out the unneeded things from my life.
887. fresh fruit season.
888. peaches!
889. God knows what is coming when i don't, so i can trust Him to give me the grace to deal with each trial and each hurdle.
890. my sweet boys. i love them so much. they fill my heart.
891. my patient husband who has stuck with me this long.
i am linked up at
a holy experience
.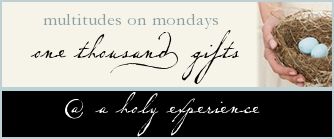 if you haven't liked this facebook page, you can in the upper right of this post. you can also follow this blog or subscribe in a reader. i would love to keep in better touch with you!
please leave a link to your list of gifts in the comments and i will come visit your blog as well! i love to give thanks together.
charis