often when i read the Bible there will be a passage that jumps out at me that i feel like the Holy Spirit is highlighting. i try to follow the leading and meditate on that chunk for a little while and let it really open up to me.
sometimes i will sing it. sometimes i will decide to blog on it because in many ways my blog is my journal (that all of you get to read!). sometimes i will pray it back to God.
always i will
ask the Holy Spirit to reveal the knowledge of God
to me in it because i know there is something there for me to gain - not just head knowledge but the spirit within me coming alive and in love with my Creator.
as i have been reading through the new testament now on the last stretch of my
Bible reading challenge
, i have really been encountering the teachings of Jesus in a fresh way. below is a chunk that i have been stuck on for the past couple weeks. i even felt the Lord leading me to text it to a friend who is going through a hard time right now. i feel maybe it is for some of you as well to be encouraged by - to be
filled with courage
.
read it, then go read the whole chapter and even the couple chapters around it. if He starts to stir your heart, dig a little deeper and wait on Him -
ask questions.

pray it.

sing it.

write it.
He will teach us all as we press into Him.
I will ask the Father, and He will give you another Helper, that He may be with you forever; that is the Spirit of truth, whom the world cannot receive, because it does not see Him or know Him, but you know Him because He abides with you and will be in you. I will not leave you as orphans; I will come to you...
but the Helper, the Holy Spirit, whom the Father will send in My name, He will teach you all things, and bring to your remembrance all that I said to you. peace I leave with you; My peace I give to you; not as the world gives do I give to you. do not let your heart be troubled, nor let it be fearful. john 14
275 -
290:
275. the
smell
of rain.
276.
celebrating
the birthday of a friend and seeing all the different women who gathered - she is richly loved.
277. a
cool day in july
- is that an oxymoron?
278.
my dear little one
turning 1 year old.
279. tomatoes
just starting to turn colors
...
280.
t-ball games
- watching, laughing, cheering, enjoying.
281.
tears that fall
almost daily - cleansing, refreshing... like the rain.
282.
coming to the Lord
with my burdens.
283. watching
others succeed
and be blessed.
284.
discovering dark areas in my heart
that surprise me, but knowing He is never surprised and still loves me.
285.
He came
because of the broken messed up world we live in... He brings me hope for eternity.
286.
money is not really all that important
in the grand scheme of things.
287.
flowers on my porch table
.
288.
farmers' market
produce in the fridge.
289.
chocolate cake.
290.
zucchini.
i am linked up at
a holy experience
.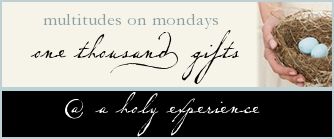 would you share something you are thankful for?
is there a passage the Holy Spirit has been highlighting to you?
how do you dig into the Word and seek out the knowledge of God?
charis