it is often the
simple things
in life that we enjoy most if we can pause long enough to really see.
the days in the park when it is
blazing hot,
but the shade of the trees and the warm breeze makes it tolerable to enjoy the blue sky and long afternoon.
a simple game of catch. teaching the young ones the skills of throwing and catching. watching their amazement when daddy throws the ball high in the air and it lands in his mitt. remembering your own amazement
not too terribly long ago
when your daddy showed off the same trick.
watching them eat their first foods fresh and full of summer sweetness and refreshment. laughing that the rind of the melon serves as a teething toy as well as entertainment for this little one who will be running around the green fields with his brothers and daddy
all too soon
. slow down baby boy,
slow down.
holding back from kissing
the freckled nose
of the little boy who was the baby so very recently, but who will not allow you to call him baby.
david, call me just david
, he insists. knowing the melon dripping down his shirt will take some time to clean but enjoying
watching him enjoy
the small pleasures in summer somehow makes the laundry work to come tolerable.
gazing at
the green eyes
that are the only one of the 4 sets that match your own. as much as you love the others being blue like their daddy's, there is something about seeing a bit of yourself in your little ones that makes the
heart swell
and
eyes stare
. amazement at how God designed each feature drawing from both mommy and daddy to make a unique mix in every child.
wishing this little one would slow down
just a little bit
, yet thanking God for
every moment
that you are privileged to watch him
grow up
. careful to not take the moment for granted, knowing that it is a treasure that will soon fly by, fleeting as the wind, and leave you with only the warm memories of grace gifts He chose to bestow in kindness on your life.
reminding myself of all He has given. sometimes speaking to myself, reminding myself, is the greatest gift i can give myself.
life is so full of grace. each moment,
if we can see it - if i can see it,
251 -
274:
251. that God holds us
in the palm of His hand
- our lives are literally sustained by Him.
252. the
countless number
of people praying for and giving to
our dear friends
and
baby audrey
.
253.
every answered prayer
, no matter how small or how large they may seem... every answer is such grace from Him.
254. my four wonderful, beautiful, amazing, strong
little men
- God has richly blessed me.
255. chocolate peanut butter cup ice cream. s'mores ice cream. okay,
anything with chocolate in it
. it isn't so much the ice cream as the chocolate.
256.
bike rides
in the park with my favorite 5 men in the whole world.
257. the
chickens
that keep trying to eat my garden.
258.
roadside strawberry stands
selling the sweetest berries for amazing prices.
259. a bag full of local
berries in the freezer
ready for smoothies.
260. tomatoes growing on the tomato plants...
hope of what is to come.
261.
the promise that He works all things together for good
for those who love Him and are called according to His purpose.
262. the Holy Spirit who will never leave us...
He promised He would not leave us as orphans
.
263. a
bbq at the lake
with our house of prayer community filled with fellowship, good food, and prayer.
264. a group of people who are devoted to prayer, a group of persistent widows, to walk through the hard times of life with
knowing they actually will pray.
265. He will one day bring
justice
once and for all.
266.
we get to taste of His justice to come now in measure
and the longing it stirs within me for the day of His coming.
267.
the honor of living the life i do
and
getting to do what i do
. how am i counted worthy to waste my life on Him?
268. so so many
new clothes
, that fit!, after a shopping trip with my sisters and mom to
forever 21
sponsored by my family's generous birthday money gifts.
269. relaxing lunch, great coffee, and pastries all from my mom on
our girls' afternoon getaway
.
270. warm
summer nights
.
271.
the beautiful place i get to call home
... so often when looking at the mountains, river, lakes, or just enjoying the warm summer nights i am known to say,
now this is why i live in here.
272.
fireworks.
273. amazing
grass-fed local steaks
from the cow we went in on with friends.
274.
swimming
in cool water on a hot day.
i am linked up at
a holy experience
.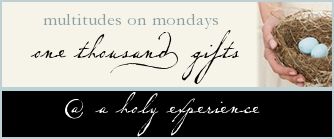 i would love to hear the grace in your life that you have eyes to see... it opens our eyes to see the grace He has give us in our own lives.
charis