i have so much on my mind and heart to write about and i just haven't had the time i would like to sit down and get it all down here to share with you all. hopefully this means some really good blog posts are coming up as soon as i get some decent time to work through the thoughts in this brain.
for now, i am simply going to share the things i am thankful for as i continue to count the graces He has given me in my life - some small, some huge, and some disguised as hardship. sharing this list every monday has impacted my heart so much! the opportunity to stop and recognize His constant activity in my life is worth more than gold.
291 - 316
:
291. the free
t-ball league
the boys are playing in this summer.
292. connecting time with some of
our partners
over coffee and desserts.
293. discovering the
tomato worms
so i could
rescue
the remaining tomatoes they haven't already destroyed.
294. feeding the gross worms to
my chickens
.
295. fun
1st
birthday party!
296. watching
simeon
take his
sweet first steps
and grow in confidence each time he tries.
297.
the opportunity
to be a faithful witness of the cross.
298. the encouragement of the Lord to my heart during worship this morning, "will you be a picture of my forgiving love in the midst of mistreatment?"
the honor (and struggle) of living like Jesus.
299.
fresh produce
during the summer.
300.
connecting with an out of town friend
i haven't seen for a year and a half.
301.
my cozy little home and rowdy big family that fills it.
302.
swimming
on scorching hot days.
303. the weekly opportunity to
partner my heart with the Lord's
in praying for israel at our friday night house of prayer set devoted to praying for their salvation.
304. being almost done with my Bible reading
challenge
! i can't believe i have almost finished and
i didn't quit!
305. my family God has blessed me with
on both sides.
306.
memorizing the Word with my kids
- through the 1st 3 psalms and about to start the 4th!
307. fresh picked
blackberries
.
308.
fresh fruit smoothies
for lunch.
309. the
faithfulness of His tenderness to my heart
when i turn to Him.
310. the
courage
to speak the truth in love when i would rather allow the fear of man to silence His urgings.
311.
real joy.
312. a husband who still
pursues my heart
, after almost 10 years of marriage and 11 years of knowing each other.
313.
letting go
of the things i thought i
needed
to be happy.
314.
the Lord correcting me
through the words of my son.
315. the Lord coming through
at the 11th hour
once again.
316. the
challenges
of living on support as intercessory missionaries with a large family -
opportunity
to see God move on our behalf.
i am linked up at
a holy experience
.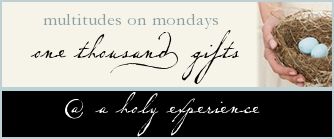 i welcome your sharing of His gifts in your life this week in the comments below.
charis