in honor of the day of my birth, i want to share with you a few of my favorite things. though not an all inclusive list, these are some things i truly do love (not necessarily in any order, though the hubby does get the top billing that he is due).
1. my wonderful hubby bill. yes, i think we were wiping my kiss off, or was it my lip gloss? regardless, my purple hair rocked and so does my husband of ten years.
3. the ocean. pretty much any body of water will do something inside this heart of mine, but there is something extra special about the ocean.
4. this lovely instrument called a piano. my mom made me take lessons when i was a kid, through me liking it then not liking it, practicing then not practicing, wanting to quit then so thankful that i didn't!!! (thank you mommy!!) these beautiful ivories are my connecting place with the Lord more often than not.
5. the Word - and i love that i have a bible that is in english and spanish... and that it was a gift from my husband when i first met him.
6. baby lips. kissable. loveable. eatable. baby. lips. tell me you can't resist either.
7. homegrown tomatoes.
my
homegrown tomatoes. i love gardening and eating from the garden.
8. knitting. there is something soothing in the rhythm. i also always remember that when i read
a tale of two cities
my sophomore year of high school i decided i wanted to knit.
it was the best of times, it was the worst of times...
9. singing. writing music. recording my music. someday i will record a cd of my music for you to enjoy.
10. tulips. my favorite flower. then comes roses and calla lilies as close seconds. but there is just something about a tulip that gets me every time.
11. fireworks! i love the crash. i love the lights. i love the glitter falling from the sky. i hoped simeon, who was due in july, would be born on the 4th so i could tell him that the fireworks were for his birthday every year. he waited and was both the 16th. oh well! but... he did start walking on the 4th of july. i told him the fireworks were in honor of him walking. we will go with it til he is too old to believe me. aw, beautiful fireworks!
13. did i mention that i love baby feet? aw, the love is welling up inside right now.
14. i love blogging. i love my readers - those who comment and those who just read that i may never know.
15. much much more! i love my family, my kiddos (all 5 of these boys!), my church community, my Savior, and all that God gives me every single day. i am incredibly blessed and celebrate another year of knowing the goodness of God. there is so much to be thankful for!
still counting gifts to 1000...
629 - 653:
629. fun new
colorful
yarn to make a gift for a friend.
630.
tandem nursing
going well.
631. hubby working hard to
clean the tons of pollen
from our roof, driveway, yard, and street - it looked like tumble weeds.
632.
wednesday night date nights
with or without a babysitter... kids in bed and blackberry cobbler in the oven.
633. the bad dream
was only a dream
and not real life.
634. the opportunity to
use a very broken area of my life
to encourage a friend who is struggling.
635.
fresh squeezed
orange juice.
636. time to
celebrate
my siblings birthdays.
637. learning
psalm 5
as a family and getting to teach the boys the old chorus that is the 1st couple verses.
638.
brightly colored flowers
blooming on the front porch.
639. a
freshly mowed
lawn.
640. the hens
started laying eggs again
after mourning their lost sister.
641. reading the book of acts and having the stories
come alive.
642. listening to my little ones go to sleep
listening to the book of the revelation of Jesus
on cd.
643.
God's provision
for us.
644.
clean water
to drink whenever i want.
645.
cuddles
with my simeon.
646. a kitchen
to create
in.
647. the pinched nerve in my shoulder is finally loose.
feels so much better.
648.
cute new baby clothes
- feels like i am dressing up a baby doll.
649.
a garden in a pot
- a thoughtful gift from a gardening friend who knew i haven't had time to plant my garden this year.
650.
more meals
brought by friends and leftovers for lunches.
651.
another year
and more thankful than ever before.
652.
bbq at the lake with family.
653.
grace to memorize the Word.
i am linked up at
a holy experience
.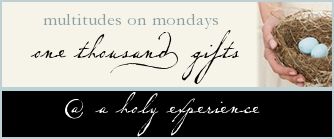 if you have a blog, let me know if you have a list of your grace gifts so i can visit! if you don't, write something you are thankful for in the comment section.
i love hearing from you!
if you haven't liked this facebook page, you can to the upper right of this post. i would love to keep in better touch with you!