i was met with such a wonderful surprise this week on one rainy afternoon. i ran out to get the mail as i headed out the door to drive to pick up my son from school and there were two boxes. one box contained the business cards i ordered for
my new etsy shop
and the other contained a gift. for me!
a
blogger friend
of mine, actually the very one who encouraged me to link up with multitude on mondays, sent me the book
one thousand gifts
because she knew that i hadn't read it yet. i was so surprised to find such a great gift among the bills and junk mail that i normally sort through. i had thought about getting it one day, but knew it wasn't on our priority list of what we needed to do with money right now. it is amazing that God knows our small desires and not just our needs. it wasn't anything i ever prayed about or even verbalized desiring, but as i drove to pick up my son from school i told the Lord,
thank you
. thank you for knowing me and wanting to
not only
provide for me, as He is so amazing at doing (as if that wasn't enough!), but surprise me and delight me and use others to do it! i was smiling the rest of the afternoon.
i am so blessed that she thought of me because i have already read the first three chapters and am having my paradigms shifted big time. oh, how good this is going to be for my heart!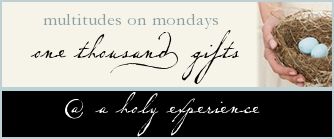 i thought myself to already be a thankful person, but i am being so challenged to go past what i had considered living life of thanksgiving and to take it to a whole new level. i have ideas for a future blog post swirling inside my head, but that is for a later time. stay tuned however! you will want to read that post when i write it. God is doing some deep stuff in me and fitting together so many different puzzle pieces. don't you love when He does that?!
today is mostly a post for starting off my week right. i mentioned last week that i have had a long history of
dreading monday
s. dread mondays no more! i may write these things down from now on during the week and then share them on mondays because there is just too much that escapes me that i notice in the moment and would be encouraging to go back over before starting the next week.
the testimony of Jesus is the spirit of prophesy
, right?! (revelation 19:10)
21-34:
21. singing at church about the cross -
remembering the ultimate sacrifice
of love for me
22.
sitting in the biting cold wind
and sleet to watch my number 1 son's very first soccer game. he scored a goal and his team won 3-0.
23. learning how to make
homemade yogur
t and the delight of the boys as they ate it and deemed it to be the best they had ever had!
24.
warm smells
of burning home fragrance oils
25. the
4 walls
of my cozy warm home as the loud wind howls just beyond them.
26. the
peaceful slumber of my sleeping baby
in my arms and the feeling of triumph of getting him to fall asleep when he was fighting it.
27.
facing some deep fears
, feeling the paralysis of what "might" be, and surrendering into God's hands.
28.
receiving the book one thousand gifts
in the mail as a surprise from a fellow blogger.
29.
celebrating
the birth of a new niece... new babies have such a hope and a peace to them.
30.
making girlie gifts
for nieces and friends having girls... remembering once again i
am
a female and i enjoy female things like flowers and ribbons and buttons.
31. the soft glow and flicker of
candle light
.
32.
conversation and connection with my dad
about the topic of prayer - one of the best people to talk with about real things.
33. going to sleep
listening to the prayer room
at the international house of prayer in kansas city and having my last thoughts of the night be thought about worshiping and praising Him. nothing like it.
34.
a clean house right before bed
... and my kids who create the mess in the morning.
won't you go to
a holy experience
to link up and join in if you too are a blogger. let me know in a comment below that you are taking part and i will visit your blog.
if you don't blog, would you leave a comment and let me know a couple things you are thankful for today. sharing what we are thankful for is contagious...
charis