i am getting this up a bit late this week - i had a surprise visit from a stomach bug on sunday. sunday is the night i usually write this post as a reflection on my week. as i lay on my couch with motrin, a puke bowl next to me, and an achy feverish body, my kids were at my parents' house. i guess my oldest made a surprise announcement that i had a baby in my belly to be funny. i started getting inquiries and congrats over ichat which baffled me. congrats for feeling miserable?!
when i later asked him why he decided to trick them all, he said he thought it was funny. he also said if i just started having a few contractions i could have been having a baby. my funny 7 year old - if only have a baby were so simple.
no announcement. feeling much better in these parts and no baby anytime soon. we are good with 4 boys right now - they keep us plenty busy!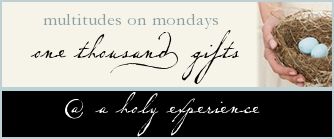 my thankful list for this past week
35-48:
35.
hot showers
.
36. juicy hand-picked
meyer lemons
from my grandma's tree.
37.
bright yellow daffodil
s peeking up announcing the arrival of spring, though the weather does not seem to agree.
38. on going conversations with my sister via
ichat
all day long, all week long, all month long... here and there, thoughts, ideas, questions, funny happenings... feels like we are in the same room though under two different rooms. i have the luxury of talking to her whenever i think of something to say.
39.
the green of seedlings
peeking up from the dirt... hope for the future.
40.
good conversation
over dinner with friends.
41. the
anticipation
and excitement of children over an upcoming "surprise."
42.
giggles, shouts, and "i knew it!"
when they discover what the surprise was.
43.
cuddled on the couch with 4 little boys
, reading about the adventures in narnia and remembering being cuddled next to my dad when i was their age listening to him read about the same adventures to me and my siblings.
44. a quiet house on a sick sunday morning because
my husband took all the kids
to church with him by himself.
45.
the sunshine after the storm
.
46.
getting to eat again
after having a stomach bug and it feeling ok inside.
47.
nights when time seems to stand still
because the little ones wake up so much... 3 out of 4 for probably a cumulative of 20 times.
48.
one really good sleeper
for a child.
won't you go to
a holy experience
to link up and join in if you too are a blogger? let me know in a comment below that you are taking part and i will visit your blog.
if you don't blog, would you leave a comment and let me know a couple things you are thankful for today.
charis