today i am sharing at
my freshly brewed life
in the
spring in my step
series!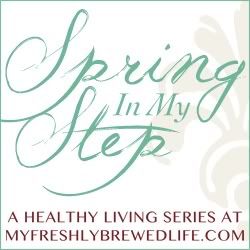 i am sharing
an easy recipe
for one of our favorite main course salads –
asian chicken salad
. as you know, we love to eat healthy, real food and love to save money while doing it! this salad is fast and easy to put together - a healthy meal everyone will love! (i was just requested to have this salad at an upcoming baby shower).
here is a little excerpt of facts i share on why to eat more cabbage:
since our star ingredient is cabbage, i would like to list some of the health benefits you get from eating more cabbage:


rich in vitamin c, iodine, calcium, vitamin e, magnesium and potassium
aids in treatment of constipation, headaches, excess weight, heart diseases, arthritis, eczema, among other ailments!
ranks up with broccoli, cauliflower, and brussels sprouts with the reputation of fighting cancer
rich in fiber
½ cup chopped only has 16 calories!
come over and read the rest
of my post and recipe
- i would love to hear you stopped by!
charis