we were having fun at a wedding
doesn't it feel like it is time for a random list of thoughts again? i thought so. here are some random things on my mind at this very moment.
my sweet thumb sucker - i was a thumb sucker too
1.
it is one of those grey days outside.
it is ok though because we are battling colds around here. i even got this one! oh my. pumping up on citrus and all the good for you stuff to get this out of the house and all of our systems before the new baby comes. about 3.5 weeks left til the due date, but my babies have ranged between 2 weeks early and 1 day late, so we will see when this new little guy decides to make his arrival.
2.
i have always been pregnant with a family member.
(crazy, right?) my
incredibly talented sister-in-law
(her work is
featured
on my blog a ton!) is due only 2 days before me with her 3rd kid - 1st girl! i have feverishly been trying to get stuff ready for her baby shower this weekend. i am so excited for her! i can't wait to meet my new little niece (#13!!). i am making
the popular salad
that i blogged about last week at
barbie's
for the shower - mmmmm good!
3.
simeon and this new little guy will be my closest two kids in age.
my first three had due dates within 4 days (guess we are fertile a certain time of year every other year??), and ended up having birthdays within 2 weeks of each other exactly 2 years apart. then we had a 2.5 year gap between david and simeon which was amazing - who knew how much a difference just 6 months makes in the maturity of a 2 year old! now this will be our closest two right after our furthest two... simeon is just 20 months and the baby literally could come at any time. so, they will be around 20-21 months apart and it feels so much closer. i really don't think simeon has a clue that a new baby is coming. i am soaking in the last days and weeks of him being my littlest baby. i told the family i am still calling him my big baby. baby doesn't end til around 2, in my opinion.
4.
prayer request:
i would appreciate prayer for two things about this baby's arrival.
we need to settle on the right name. i feel like the Lord guided us so much with our 1st 4 boys' names and i am really wanting the perfect confirmation for this baby's name as well. we have ideas we like, nothing we have agreed on, but also haven't had the confirmation my heart needs yet.
i would like prayer this baby would arrive at the perfect timing. my midwife missed my birth with simeon and i would really like to have her deliver this time around. she brings so much peace with her and makes me feel very safe. i also would like all of us well before the new little guy arrives - i have done sickness in the house with a newborn and it is no fun!
5.
i made beet sourdough pancakes this late morning.
sounds gross? oh, my friends, it is soooo not gross! amazing is more the word i am looking for. you should definitely check out the recipe at my friend
katie's blog
. (check out some of
her other recipes
while you are at it - she has great ideas that are healthy and yummy at the same time!)
still counting gifts to 1000...
571
-
583:
571. listening to
john thurlow
play my heart's cry on the piano keys.
572.
fresh flowers
in vases in my living room.
573.
replacement parts for my broken rocking chair
are ordered...and will be here before the baby is born!
574. found
the perfect yarn
for the new baby's blanket.
575. learning to knit something new and
turning frustration moments into learning opportunities.
576.
borrowed bradley books
to brush up before labor.
577. my
sister's
homemade tiramisu
.
578.
herbs and herbal teas
to prep my body for the big day.
579.
thoughts of possible names swirling in my head
... knowing the Lord will show us the right one.
580.
pink pancakes.
581.
a beaming bride
walking down the aisle.
582. dancing with my 4 boys on the dance floor -
watching childlike abandon
.
583. soaking up the days left of
simeon being my youngest
.
i am linked up at
a holy experience
.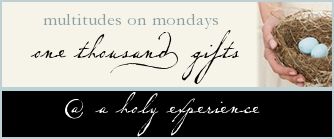 if you have a blog, let me know if you have a list of your grace gifts so i can visit! if you don't, write something you are thankful for in the comment section.
i love hearing from you!