i am missing this sweet little face right now. it is sunday night (as i write this though i will post it tomorrow), and i have battled an intense food poisoning all day - in the worst way if you know what i mean. i will spare you the details.
my sweet husband whisked the 4 boys off to church this morning then took them to my mom's house, so i could be sick in peace. they have been gone all day so mommy could be sick and not be tending to little ones.
i am finally starting to feel a bit better. now sitting here in a quiet empty house is seeming a bit lonely compared to life that usually fills it. i must be feeling well enough to notice.
just reminded once again how blessed i am in so many ways. my just normal everyday health is one thing i take for granted so often until something like this stomach thing hits.
so happy these little ones and my thoughtful husband will be walking in the door any minute.
so thankful that tomorrow is a new day.
still counting gifts to 1000...
526
-
541:
526.
a husband who took the kids away for a day
while i battled intense food poisoning.
527. starting to feel
better
.
528.
rehydrating
... lots of early contractions were a bit scary at one point.
529. my wonderful kids -
missing them
gone all day.
530. hearing
this song again
... i would have to say the 3rd, and often unknown, verse is my favorite.
531. the
relaxing rhythm
of knitting.
532.
reading a book
on planning for birth.
533.
messes
all over this house.
534.
my grandma comes home
from the rehab place this week.
535.
10 years
of marriage with my husband this week.
536.
prayers
when i don't feel well.
537.
friends.
538. the
nearness
of the Lord.
539. a sweet
worship time.
540. uriah lost his
first tooth.
541.
simeon's first haircut.
i am linked up at
a holy experience
.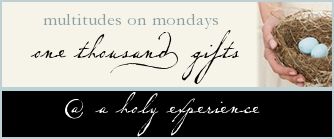 if you have a blog, let me know if you have a list of your grace gifts so i can visit! if you don't, write something you are thankful for in the comment section. i love hearing from you!