we had a wonderful time celebrating our 10 year anniversary this past friday. my husband wrote me a song and recorded it - how romantic is that, right?! flowers in bold beautiful oranges and reds grace my living room. we spent time my the river watching our 4 boys throw rocks in and took pictures in the same spot we had wedding pictures taken ten years ago. (the above picture is from my phone taken by one of my kiddos). we went to our favorite little italian restaurant for dinner and watched a movie.

the very best part was just simply being together.

there is so much i could write about marriage, but i will save that for a later date.

God is so faithful and has used marriage to shape and refine me. looking at how much i have changed and grown over the past 10 years, i can't wait to see how much He shapes me over the next 10 years.

the better and the worse - it is all used for His glory.


still counting gifts to 1000...
542
-
570:
542.
singing a worship song with the kids
when i thought i was too tired.
543.
long day of taking care of kids alone
when the hubby isn't feeling well.
544.
hot flax wrap
on my achy tired back.
545. being
stretched
in my patience.
546.
pink cherry blossoms
everywhere i look.
547.
"this too shall pass."
548. 1
0 years of marriage.
guess we aren't newlyweds anymore?
549.
eucalyptus oil
in the humidifier.
550.
anticipation
of giving a gift to my husband who gives me so much.
551. reminders that
i will never please everyone
.
552. my boys
laying hands on me and praying for me
.
553. the desire
to create
.
554.
little feet
tap dancing in my belly.
555. an
encouraging email
from a friend at just the right time.
556.
remembering
the words in our vows.
557.
sourdough starter
covered waiting to make bread.
558.
newman's organic peppermints.
559. tomorrow is a new day.
His mercies are new every morning.
560. He is
not intimidated
by my weakness.
561. starting to feel
peace
in anticipating labor.
562.
favor
in the craziest ways.
563. a very
surprising phone call
that someone we haven't talked to in a long time wanted to bless us big time.
564. my grandma and my kids
putting a puzzle together
.
565.
meyer lemons
off grandma's lemon tree.
566. meeting
new people
.
567. the opportunity to share at
barbie's
one of my favorite recipes and on eating more raw fruits and veggies.
568. buying
fun new yarns
.
569.
God wowing me
with His faithfulness and provision.
570.
a wonderful day
celebrating the past 10 years.
i am linked up at
a holy experience
.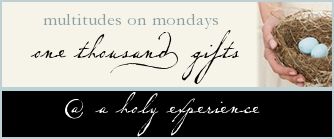 if you have a blog, let me know if you have a list of your grace gifts so i can visit! if you don't, write something you are thankful for in the comment section. i love hearing from you!