i sit this morning writing as i smell the banana bread for breakfast baking in the oven. i can hear the soothing sound of chicks peeping in their box in the kitchen. i look over to my left and see trays of seedings in newspaper pots reaching for light in the window. a basket of clean towels is waiting to be folded at my feet. i think about my hard working husband who working his tail off readying our yard to be just a little more self-sufficient this year.
i am blessed beyond measure. i am reminded that if we have eyes to see His activity in our lives, we will overflow with thanksgiving. i want to overflow with thanksgiving in my life. i want to be one with eyes as a child that look on life with wonder. i want to overflow with joy.
i remember that even with all He gives me in this life, nothing compares with the forgiveness of sin and the promise of the curse of death being forever removed. what will it be like to be raised up and live forever? what little tastes of this promise does He give me right now to anchor my hope in His return?
He who owes me nothing gives me everything.
when i realize that it is not God who is in my debt but i who am in His great debt,
then doesn't all become gift? ann voscamp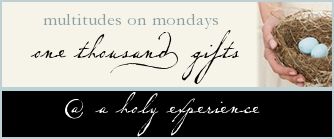 every gift He gives now is either a taste of what is to come or a tool to prepare me for then... the day when i will see Him face to face.
72-87:
72. two grocery bags of
hand-picked grapefruits
from a friend.
73.
blue sky accented with fluffy white clouds
.
74. the
whine of a violin
playing the melody of my heart.
75. receiving a word from the Lord
through my 7 year old.
76. the
opportunity to serve
by leading others into His presence in worship.
77. the
soft peeping of baby chicks
in my kitchen.
78.
a candle lit date night in
with the kids over at their nonnie and pa's house.
79.
aebleskivers and coffee
for breakfast.
80.
rediscovering parts of myself
that had been dormant for the past 10 years.
81.
pain receptacles
in my hand that tell me to let go of the handle of the cast iron skillet that is burning me.
82.
salsa
from chevy's.
83.
listening to my husband teach the Word.
84.
treasures
from second-hand stores.
85.
still ponds
with fresh green grasses and reeds growing up around them and filled with ducks and geese.
86. the
clear clean breath
after
using a neti pot
.
87. the promise that
He will raise up our bodies to live forever.
i am linked up at
a holy experience
. let me know in a comment below that you are taking part and i will visit your blog.
what are you thankful for today?
charis