another monday morning. another week beginning. how to i approach new beginnings?
with dread and anxiety?
or full of expectation and an awareness of God's activity?
i hear the sounds of my boys playing in their room as i hold the youngest one waiting for his heavy eyelids to surrender to sweet slumber. i feel a stirring inside to connect with the One who gave me life and breath. will i have the chance to steal away?
i look forward to my time in the shower. hot water is soothing, but even more so are the moments of connecting with the Lord uninterrupted. i anticipate the chance to pour out my love on Him and focus my attention before the demands of being a mom consume me and another day slips by without my heart being aligned with His. the tasks ahead of me are the same; my perspective doesn't have to be.
whoever speaks, is to do so as one who is speaking the utterances of God; whoever serves is to do so as one who is serving by the strength which God supplies; so that in all things God may be glorified through Jesus Christ, to whom belongs the glory and dominion forever and ever. amen.
1 peter 4:11
this is the life of a christian mom.
whoever speaks... whoever serves...
fresh perspective! may all i put my hand to be for the glory of the One who gives me life, hope, and joy.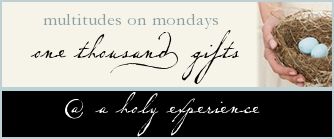 i continue counting blessings. how much slips by unnoticed when my eyes are not open to see the gifts He showers all around me all the time. i open my eyes once again and thanksgiving brings forth praise and expectation.
49-71:
49.
a bigger backyard
after the structure demo.
50.
running water.
twice within 48 hours we have had the water main shut off for 4-6 hours due to burst pipes during the demo in the backyard.
51.
brothers that would come help
my husband fix the pipes even in the dark.
52.
new fun recipes
that the kids love such as
chicken paprikash
.
53.
surprise $
in our missionary check this month from a loved one
right when we needed it
.
54.
the Holy Spirit
reminding my heart to stop striving and be still.
55.
homemade yogurt topped with homemade granola
.
56. the baby saying mama when he cries and
the privilege
to be the one who comforts him.
57.
provision
to pay for asher's filling he needed this week.
58. sitting in the dentist office reading the book of isaiah on my phone and
meditating on the faithfulness of God
while asher's teeth were being filled right next to me.
59. email alerts of
new comments
on my blog.
60. t
he opportunity to be bad at something
so i can learn something new.
61.
brothers and sisters that i choose to be my closest friends
.
62. toys on the floor showing our house is
a home that is lived in
.
63.
the change of seasons
.
64.
reading a blog of an old friend
that encourages me that my assignment to raise 4 boys to love the Lord is of highest importance and to not grow faint.
65.
the color yellow.
66. the
timely blessings
of friends.
67. sitting on the chocolate brown leather couch surrounded by my 4 little men
feeling like the richest woman in the world.
68.
pizza sundays
at my parents' house.
69. gathering with other families at homegroup and
worshiping and studying the Word with our children.
70.
the adventure
of learning to live by faith.
71. being
a missionary in my hometown.
won't you go to
a holy experience
to link up and join in if you too are a blogger? let me know in a comment below that you are taking part and i will visit your blog.
what are you thankful for today?
charis